Brief Introduction of Liyuan Opera Show
Situated in Beijing Qianmen Hotel, Liyuan Theatre is the most prestigious performance venue of Beijing Opera. From the traditional performance stage, the Baixian Table (old fashioned square table to seat eight people) to the unique facial make-up, everything in the theater reflects the special feature of old Beijing. The theater has 1000 seats and is equipped with simultaneous translation equipment for English and Japanese. the theater also provides English subtitles for foreign visitors.
Before the beginning of the performance, you may visit the performers' make-up room and see their make-up process. besides, you can buy various souvenirs related to Beijing Opera here. Waiters and waitress in Tang suits (traditional Chinese garments) will pour tea for you through long-mouth tea pot while introduce Beijing Opera in English. your understanding of old Beijing will become an agreeable artistic enjoyment. Among those foreign leaders and officials who visited Beijing, many have left their footprints in this theater.
Each year over 300 thousands visitors will come here to enjoy the brilliant Beijing opera. Liyuan Theater has become a window of Beijing and a bridge between Beijing and the world. The performance time is 7:30 PM ,every day. Before and after the performance, you may go to the Chinese Restaurant and enjoy Chinese delicacy, especially the famous Beijing Roast Duck.
The Seating Plan and Stage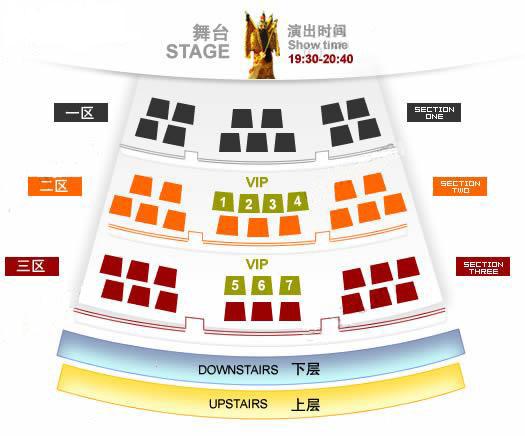 Our Discount Ticktes Price as below:

Blue Zone

(back zone or second floor)
100RMB


Red Zone

(front zone / 1-2 or 5-6 rows)
150RMB


Organe Zone

( Special zone / 3-4 rows)
300RMB


Green Vip Zone

( VIP Table 1-7)
400RMB