About the Golden Mask Dynasty Show
If you want to watch a original and large-scale Chinese musical drama, you will not miss the 'The Golden Mask Dynasty' at the OCT Theater in Beijing Happy Valley. A mythical age in China, the show tells a fairy-tale like story of war, royal banquets, and romance. The play has 20 different dance scenes, representing a soul-stirring and romantic 'great love and harmony' legend! "The Golden Mask Dynasty" was sponsored by Overseas Chinese Town, OCT, which invested 200 million yuan into building the Beijing OCT Theater for the play. The play has eight chapters and included more than 200 actors from China and abroad. Produced by Chinese playwrights, directors and designers, the play features Chinese dances, acrobatics, costumes, and lighting and acoustics.
Background of the show
This is a Chinese tail, an ancient romantic legend, the fragment of distant historical memory -- The beautiful Golden Mask Queen leading her just army defeated the invading Blue Mask and also made the acquaintance of him. The post-war Golden Mask Dynasty returned to its leisurely pastoral life. To ask bless for the Golden Mask Dynasty, the Queen decided to forge the ''mysterious tree''. When the tree grew up, the Queen held a grand celebration and released the Blue soldiers. The Blue Mask King was deeply moved by the Queen's tolerance, the same to the Queen by his braveness, so it witnessed their great admiration and love.
Monstrous floods stroke the kingdom and left it at risk. To save the people, the Queen, under the guidance of the mysterious tree, sacrificed herself. The Golden Mask Queen had to say farewell to the Blue Mask King. The flood gradually subsided, and the people were rescued. The Blue Mask King and the people had endless loving thought of the Queen, and the Queen turned into a golden sunbird flying in the sky above her hometown, blessing the long-lasting well-being of the dynasty.
The Seating Plan of OCT Theatre in Beijing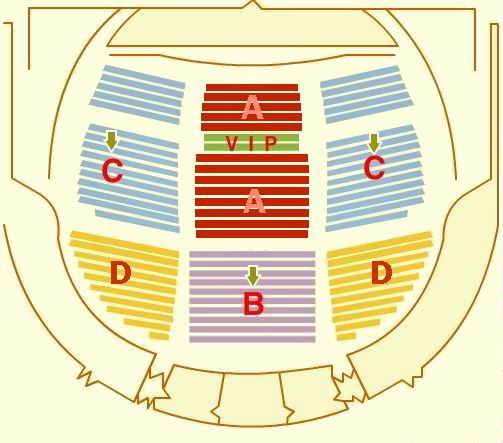 Our Discount Tickets Price as below:

| | |
| --- | --- |
| Yellow Zone | 150RMB |
| Blue Zone | 200RMB |
| Purple Zone | 260RMB |
| Red Zone | 360RMB |
| Green VIP Zone | 450RMB |
How it works?
Step 1: Choose your seat from Golden Mask Dynasty Theatre Seat Map.
Step 2: Please fill in the inquiry form or via email to [email protected], we will have your booking in 30 minutes.
Step 3: Let us know your booking date, price, name, show time, number of tickets
Step 4: When the booking is confirmed, you will get a confirmation email from us
Step 5: Our guide will give you the tickets at the theare enteance 30 minutes before the show start

?Note:
We require pay the full payment for the ticket booking. Need to pay in advance. Discount tickets need make a reservation by email or phone call! and then our guide meet you at theatre give you tickets! Discount tickets need at least one day before booking!
The Golden Mask Dynasty Photo Gallery