Beijing Hutongs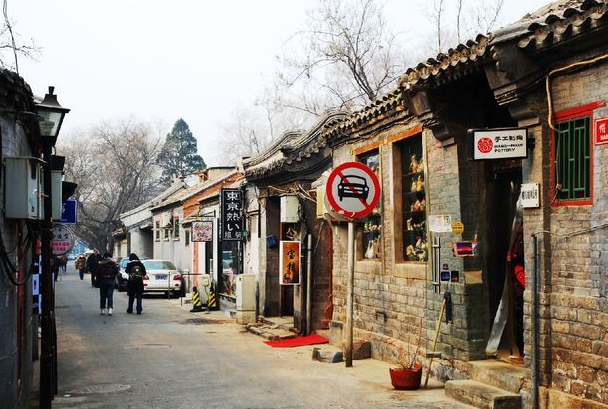 Introduction
Hutong refers to lanes and alleys between the Siheyuan (courtyard with buildings on four sides) residences in Beijing, spreading over every corner of the old city. The dotted hutongs are unique scenery in Beijing profoundly related to the Siheyuan, which, together outlining the casual and charming life of the common people in the old city.
The hutongs of various sizes in Beijing reached as many as 7000-odd in number, each featuring an anecdote or story. A variety of names are given to the hutongs, some named after a figure, such as the Wen Chengxiang Lane (the Lane of Grand Councilor Wen), some after a marketplace or commodity, such as the Goldfish Lane, or named according to the Beijing dialect, such as the Menhuluguan Lane (the Lane of Piggy Bank) etc.
History & Background
Hutongs first appeared in the Yuan Dynasty (1271-1368) after the original city was destroyed during a war. Most of the hutongs still in existence today date from the Ming (1368 - 1644) and Qing (1644 - 1911) dynasties.
However, still possible to find some from the Yuan Dynasty. For instance, the Zhuanta Hutong on Xisi in the west of the city is one such ancient hutong. In dramas written during the Yuan period, the Zhuanta Hutong is often mentioned. The area was also the home of famous playwright Guan Hanqing, China's Shakespeare of the Yuan Dynasty.

Hutong is a transliteration from Mongolian bearing the meaning of walking ground, which has been passed down ever since the construction of Dadu (the capital of Yuan Dynasty, today's Beijing) in 1267. The old hutongs, the fruit of the ancient history of Beijing, have existed for over 700 years till now. After a world of changes through centuries, they have become a symbol of life for People in Beijing, there are thousands of hutongs in the city.
The oldest hutong in Beijing is called Sanmiao Street. It enjoys a history of more than 900 years! The longest one is the Dongxi Jiaomin Lane with a length of 6.5 li, while the shortest is merely a dozen meters. The narrowest one shall be the Qianshi Lane in Dashilan'er area of Qianmen, which is as narrow as 0.7 meter.
Top 10 Must-See Hutongs in Beijing
Nanluoguxiang Hutong
Located several kilometers north of the Forbidden City and just east of Houhai Lake is Nanluoguxiang, an 800-meter long north-south alleyway filled with cafes, bars, and shops all designed in classical Chinese 'hutong' style.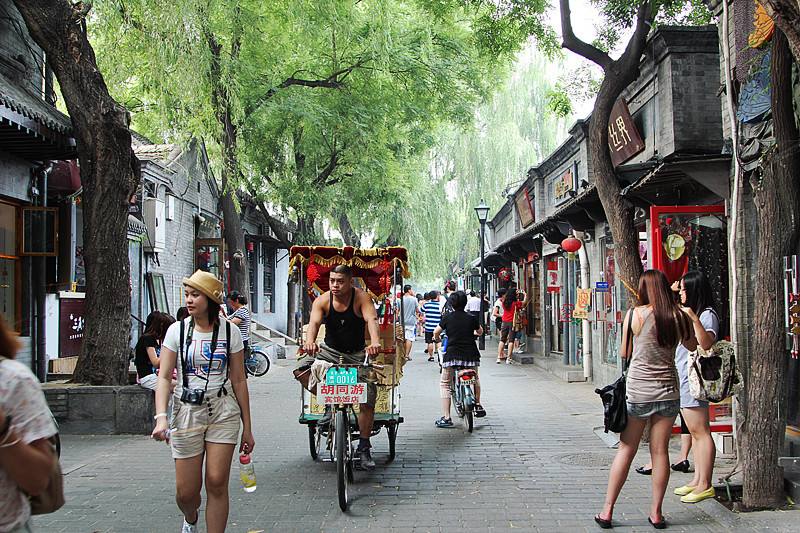 This heavily renovated hutong is a heaven for backpackers. Popular spots include the Passby Bar(Western and Chinese food, gin and tonics, lovely courtyard atmosphere).

Travel Tips:
Adress: Dongcheng District
Transportation: Bus 5, 60, 82, 107, 124 to Gulou, or bus 13, 118, 612, 823 to Luoguxiang.
Surrounding attractions: Houhai Lake, Shichahai Lake, Gongwangfu Garden
Yandaixie Street
Yandaixie Street, literally meaning "Skewed Tobacco Pouch Street", is located in the north of Xicheng district. The 232-meter-long street starts from Di'anmen Avenue in the east and ends at Shichahai Lake in the west. The street originally got its name due to its shape, which resembles a huge tobacco pouch. During the Qing Dynasty (1644-1911), many tobacco stores opened there. Today, visitors wandering along the street still can find many stores selling tobacco pouches, antiques and all kinds of souvenirs.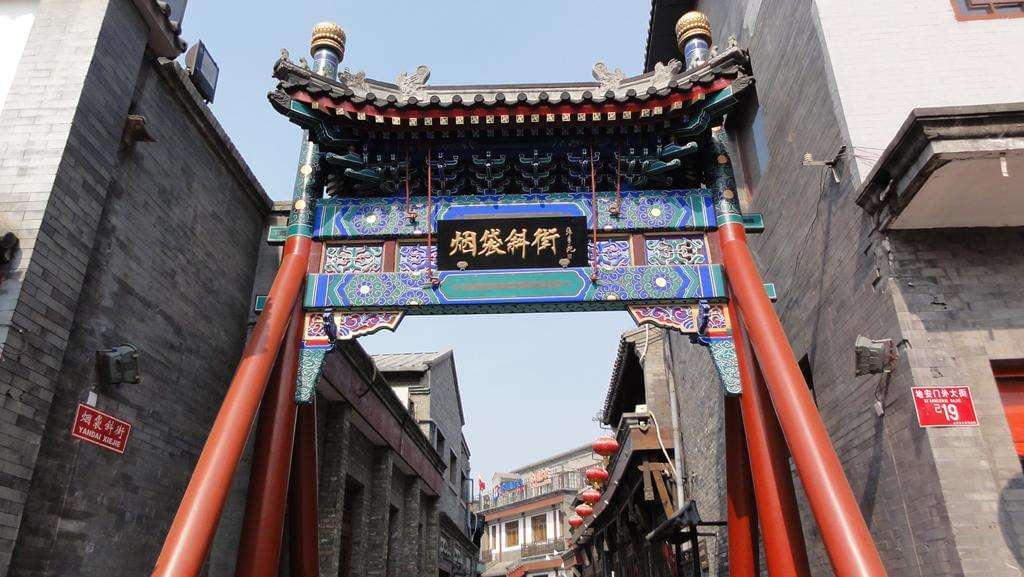 Travel Tips:
Adress: Di'anmenwai Avenue, Xicheng District, Beijing
Transportation: Bus 5, 60, 82, 107, 124 to Gulou or Take Subway Line 2 to Gulou dajie
Surrounding attractions: Drum Tower, former residence of Guo Moruo

Mao'er Hutong
Mao'er Hutong is an interesting place because of its location, hidden in plain sight and in close proximity to well-known places, plus the fact there are four spots on this one alleyway identified as cultural relics none of which are officially open to the public.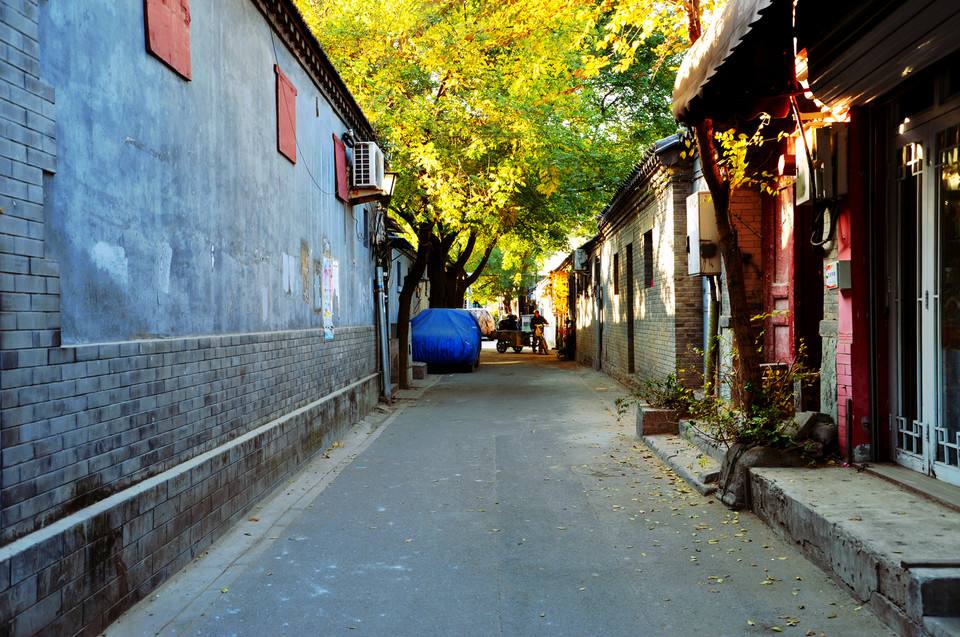 The area dates from the Ming Dynasty (1368-1644) when it was called the Wenchang Gong, a Taoist temple honouring the spirit belonging to the sixth of China's 28 constellations. The current name came into usage during the succeeding Qing Dynasty (1644-1911). The hutong runs west to east from Di'anmenwai Dajie to Nanluogu Xiang in the Jiaodaokou sub-district. The best way to find it is from Di'anmen; it's the first alleyway northeast of the old bridge to the east of Qianhai.

Travel Tips:
Adress: Dongcheng District
Transportation: Bus 13, 42, 118, 612, 623, 701 to Di'anmendong
Surrounding attractions: Nanluoguxiang, former residence of Mao Dun


Guozijian Street
Guozijian Street is a street in Dongcheng District. It is listed as an important historical site, dating to 1306, and a Temple of Confucius, built in 1302, are located in this street. The Yonghe Temple is located next to its east entrance. It is the only hutong in Beijing to feature ancient archways.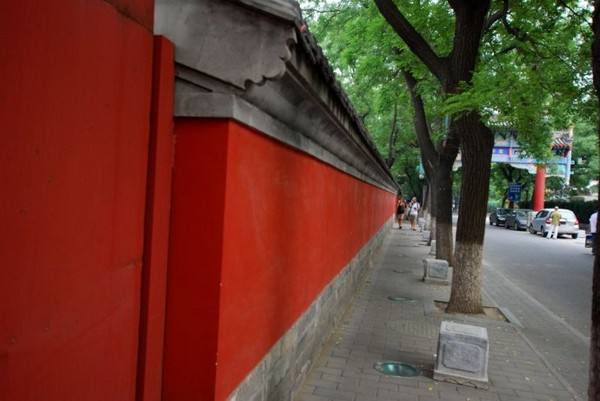 The street gets its name from the Guozijian House, which is the home of the Imperial College during the Yuan (1206–1368), Ming (1368-1644) and Qing (1644-1911) dynasties. Now, visitors still can find many interesting antique stores, tea houses and traditional shops on the street. And because the street lies next to the Lama Temple, the perfumed scent of burning incense fills the air, making the street seem both classical and mysterious.

Travel Tips:
Adress: Northwest of Dongcheng District
Transportation: Bus 13, 684 to Guozijian, or bus 116, 117 to Yonghegong
Surrounding attractions: Yonghegong Lama Temple, Guozijian House


Liulichang Street
The Liulichang Street of Chinese Culture is a 750 meter long collection of all kinds of Calligraphy, art, antiques and paintings that China has to offer. The street is a hubbub of China's culture and one is totally taken in by the aura surrounding it. Located south of the Peace gate in Beijing the street is a favorite with tourists.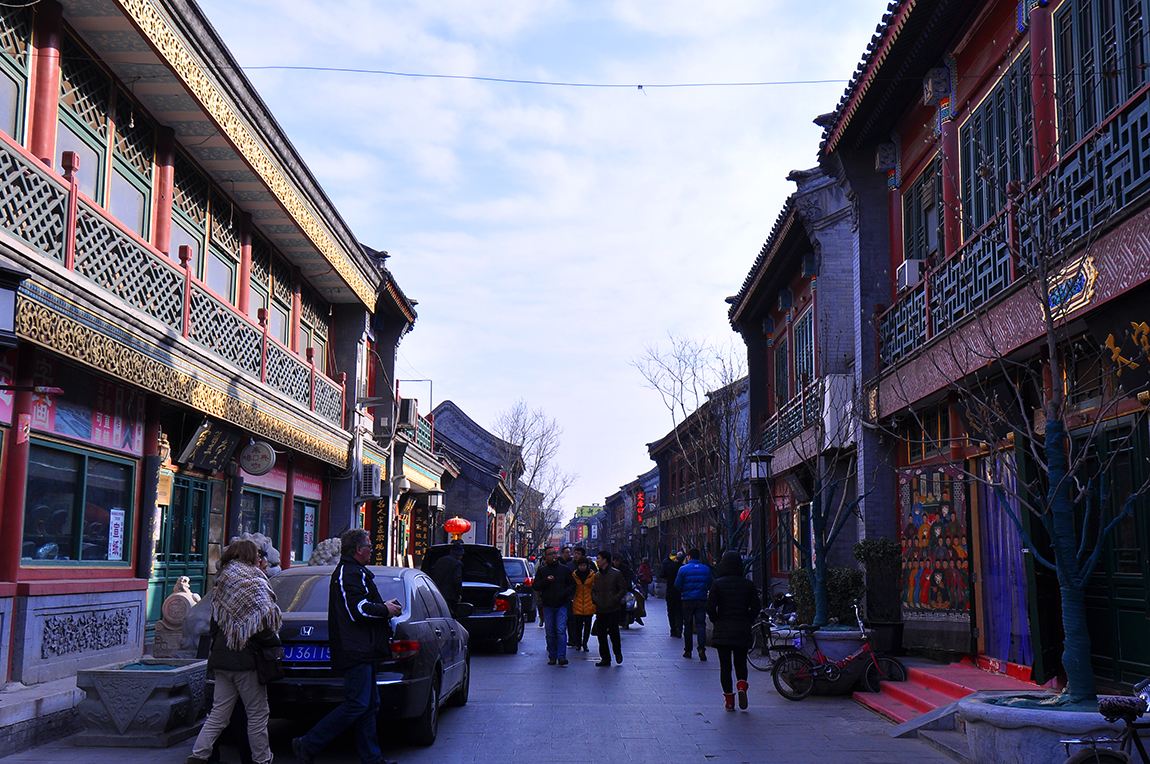 Merchants race to their doors with a welcoming "hello, hello" for all their customers, but they all rack their brains to attract foreigners' attention. Some offer free seal-carving services and they even can find a perfect Chinese name for you if you like.

Travel Tips:
Adress: South of Hepingmen Gate
Transportation: Bus 6, 102, 106, 109, 603 to Liulichang, Subway Line 2 to Hepingmen, Exit D1 or D2.
Surrounding attractions: Changdian, old house of Ji Xiaolan
Jinyu Hutong
Jinyu Hutong occupies some big brand hotels and advanced markets. This buildings in the night show the beauty of lights, making Jinyu Hutong a nice place to enjoy the night scene. After hanging around Wangfujing, Jinyu Hutong is an alternative for you. Locals like to exercise or just walking along the high walls of Forbidden City, and Jinyu Hutong is the easiest way to get to the southeast section of the walls.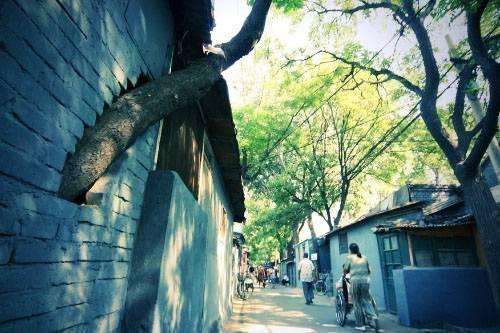 Travel Tips:
Adress: Dongcheng district
Transportation: Bus 103, 104, 108, 111, 420, 614 to Dengshixikou
Surrounding attractions: Wangfujing Avenue, St. Joseph's Wangfujing Church

Dongjiaominxiang
Extending from East Tian'anmen Square Road in the west to Chongwenmennei Avenue in the east, Dongjiaominxiang, over 3,000 meters long, is the longest hutong in Beijing and was called Beijing's "Embassy Row" in the early 20th century. The architecture along this alley presents a different style to most hutong. Since the Ming Dynasty (1368-1644), it has been used to receive foreign ambassadors. After the Second Opium War (1856-60), ministers from Britain, France and the United States came to live in the houses that had belonged to princes and rich families. Many buildings were demolished in the development of the city from 1980. However, the alley is now protected by the Beijing municipal government as a historic legacy. Bank buildings, the French hospital and a Gothic Catholic cathedral built in 1901 still remain.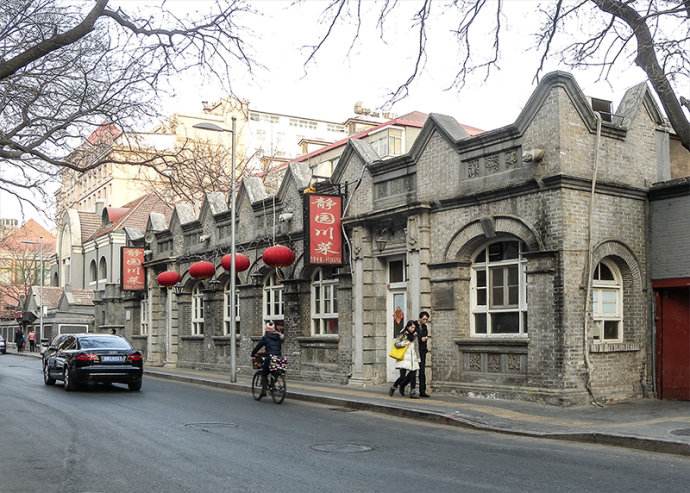 Travel Tips:
Adress: West of Tian'anmen Square
Transportation: Bus 9, 673, 692, 723, 729 to Chongwenmenxi
Surrounding attractions: Tian'anmen Square, Dongjiaominxiang Church, Laoshe Tea House

Xijiaominxiang
Xijiaominxiang was first built in the Ming Dynasty (1368-1644), but became prominent about 100 years ago when several domestic and overseas banks chose to open in that location, making it the city's original financial street. Visitors can still see the architecture of old banks there, including the former sites of the Central Bank, China Agriculture and Industry Bank and Mainland Bank.
Tips:
Adress: Southern part of Xicheng District
Transportation: Bus 9, 44, 67, 301, 608, 673, 901 to Qianmenxi
Surrounding attractions: Tian'anmen Square, Qianmen Street, China Numismatic Museum
Ju'er Hutong
It was first built in the Yuan Dynasty (1206-1368) and is more than 400 meters long. During the Qing Dynasty (1644-1911), Ju'er Hutong was a gathering place for people of the Xiang Huang Division (an upper class group of the eight divisions commanded by the emperor). And No. 3, 5 and 7 houses are the former residence of Rong Lu, a provincial governor and right-hand man of Empress Dowager Cixi.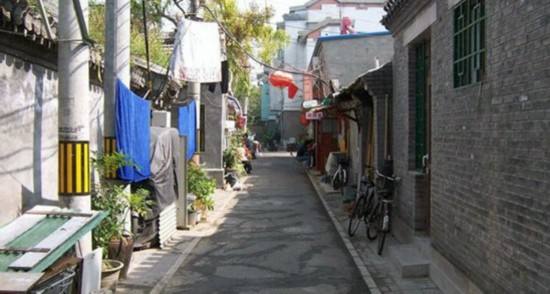 Travel Tips:
Adress: Northwest of Dongcheng District
Transportation: Bus 104, 108, 113, 612, 758 to Jiaodaokounan
Surrounding attractions: Nanluoguxiang, Yonghegong Lama Temple
Bada Hutong
During the Qing Dynasty (1644-1911), Bada Hutong was notorious as the city's biggest "red light district", housing more than 2,000 brothels. The structure of each brothel varied, and all were different from ordinary houses. After 1949, many brothels were turned into hotels and/or residences.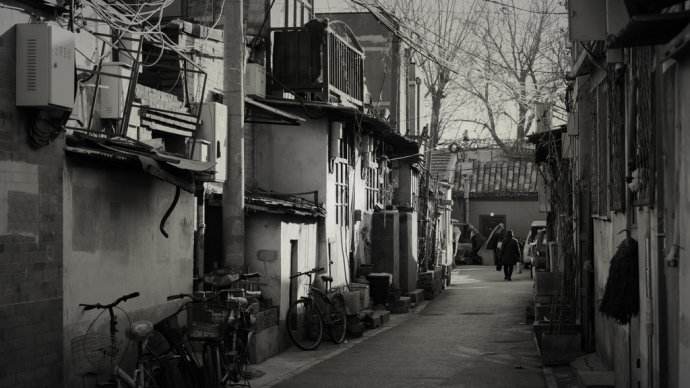 Travel Tips:
Adress: Xicheng District
Transportation: Bus 5, 23, 34, 48, 57, 715 to Hufangqiaolukoudong
Surrounding attractions: Dashila, Qianmen Street, Liulichang

Hutong Culture
Hutongs represent an important cultural element of the city of Beijing. Thanks to Beijing's long history and status as capital for six dynasties, almost every hutong has its anecdotes, and some are even associated with historic events. In contrast to the court life and elite culture represented by the Forbidden City, Summer Palace, and the Temple of Heaven, the hutongs reflect the culture of grassroots Beijingers. The hutongs are residential neighborhoods which still form the heart of Old Beijing. A virtual tour of one of Beijing's Hutong's can be found.
Tour The Beijing Hutongs with Beijing Private Tour
We will provide a private & spacious car and a local professional tour guide with over 5 years guiding experience only work for you or your group. You will be escorted during your tour. Transport, ticket, and dining (At some local restaurants popular with locals) all we will arrange for you according your requirements. Please check our most popular Beijing Tours including The Beijing Hutongs as below:


Are the above sample tour programs not suitable for you? We have more Beijing tours. Our tours can be tailor-made based on your requirements and budget to create unique Beijing experiences that allow you to interact with the local people and culture. Our enthusiastic tour expert will promptly reply you in details within 24 hours.