Chengdu
Post Date: 2017/08/03 16:56
Share to: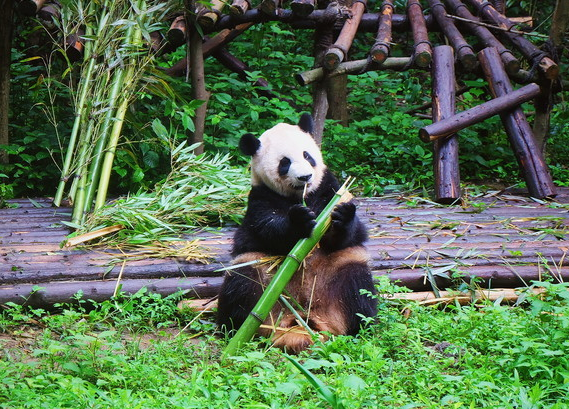 Introduction to Chengdu
Chengdu, the capital city of Sichuan province, is an important center city and sub-provincial-level city of China. As a Historic and Cultural City of China, Chengdu is also, defined by the State Council, Southwest China's center of science, commerce, and finance and hub of telecommunication and transportation. Governing 9 districts, 4 county-level cities and 6 counties, Chengdu covers an area of 12,100km2, and has a population of 14.07 million, including an 11.63 million registered population and a 7.68 million urban population.
Situated in the plain of west Sichuan, Chengdu gains its name after the old saying," It took one year to make Chengdu a village, two years a town, and three years a city", and it has been 2300 years since the founding of Chengdu city. Rich in natural resources, Chengdu stays immune from cold winter, hot summer,hunger, flood and drought, therefore is honored as" the Land of Abundance." Home to plenty of world natural and cultural heritages such as Qingcheng Mountain, Dujiangyan Irrigation System, Panda base, and national 4A and above scenic spots such as Wuhou Temple, Dufu Thatched Cottage, Jinsha Relics, Xiling Snow Mountain, Chengdu also enjoys abundant tourism resources and is rated by WTO as Best Tourism Attraction in China.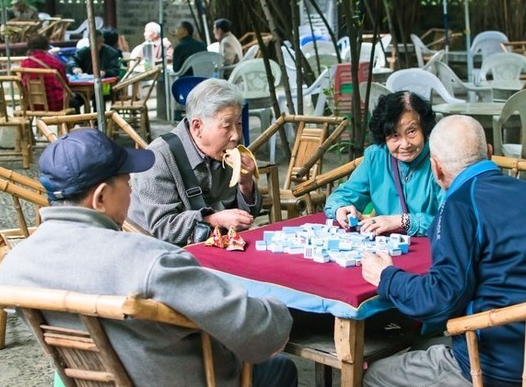 History of Chengdu
Listed by the Chinese State Council as one of China's 24 most important cities in terms of historical and cultural significance, Chengdu's history dates back to over 2,300 years.
As early as 4th century BC, the Shu State moved its capital to where Chengdu city is presently located, and in the year 311 BC, the Qin people built a city wall of 12 li (6 km) in circumference and seven zhang (about 25m) high, which marked the formal establishment of Chengdu city. In 1985, an ancient building complex was unearthed by the west city gate of Chengdu, which was identified as a palace of the Shang Dynasty, built more than 3,600 years ago. This discovery pushes Chengdu's recorded history back over 1,000 years.

During the Western Han Dynasty (206-25 BC) the city was known as Brocade Cityfor its then-thriving silk brocade industry. During the Wudai Dynasty (907-960), the top of the city wall was extensively planted with hibiscus flowers, and at the time, the city was frequently referred to as Hibiscus City, a name by which it is stilled called today.

In the Qin (221-206 BC) and Han (206 BC-220 AD) Dynasties, Chengdu was a well-known hub of commerce. By the Tang (618-907 AD) and Song (960-1279 AD) dynasties, the traditional business workshops were gradually replaced by a pattern of selling shops facing the street and manufacturing shops attached behind (qiandian houfang). The whole city consisted of five big commercial centers plus a large out-of-town hay market. Throughout the year, a theme fair would be held each month: January for lantern; February for flower; March for silkworm; April for brocade; May for fan; June for incense; July for seven treasures; April for fragrants; September for medicine; October for wine; November for plum and December for peach wooden charms. The city also saw brisk night fairs at the time. Today, people can still hear such names as Business Street and Button Fair Street, a reflection of the city's historical commerce.

China is the world's first country to use paper money, and Chengdu is the forerunner in China. Paper money was issued in Chengdu in the early North Song Dynasty (420-479), which greatly pushed the development of trade and economy. Chengdu is also the first place in the world to extract and use natural gas. That was in the Western Han Dynasty when Chengdu people utilized it to produce salt.

Chengdu attractions
Dujiangyan Irrigation Project
Dujiangyan is actually a small satellite town 45 minutes northwest of Chengdu by car. A high-speed rail link from the North Rail Station cuts that trip down to 15 minutes. The irrigation project here is definitely worth the trip. Constructed more than 2,000 years ago by a Daoist bureaucrat, the dam is still functioning today and provides Chengdu with a stable water supply year round. The park around the dam is beautiful and a nearby temple, the Er Wang Temple, was rebuilt after the 2008 Wenchuan Earthquake and also well worth a visit.
Address: Dujiangyan City
Opening Time: 8am to 5:30pm

Jinli Ancient Street
Jinli Ancient Street is as popular with locals as it is with tourists. Modelled after a dynastic-era street in ancient China, Jinli boasts great gardens and architecture, housing dozens of souvenir shops and small curio stands. The real treat, however, is all of the food. At night the food stalls come out, and hungry locals replace worn out tourists. A large park opens up at the backend of Jinli, and there are nightly Sichuan Opera performances as well. The best time to visit Jinli is at dusk, when the lamps come out. Don't forget to bring your camera.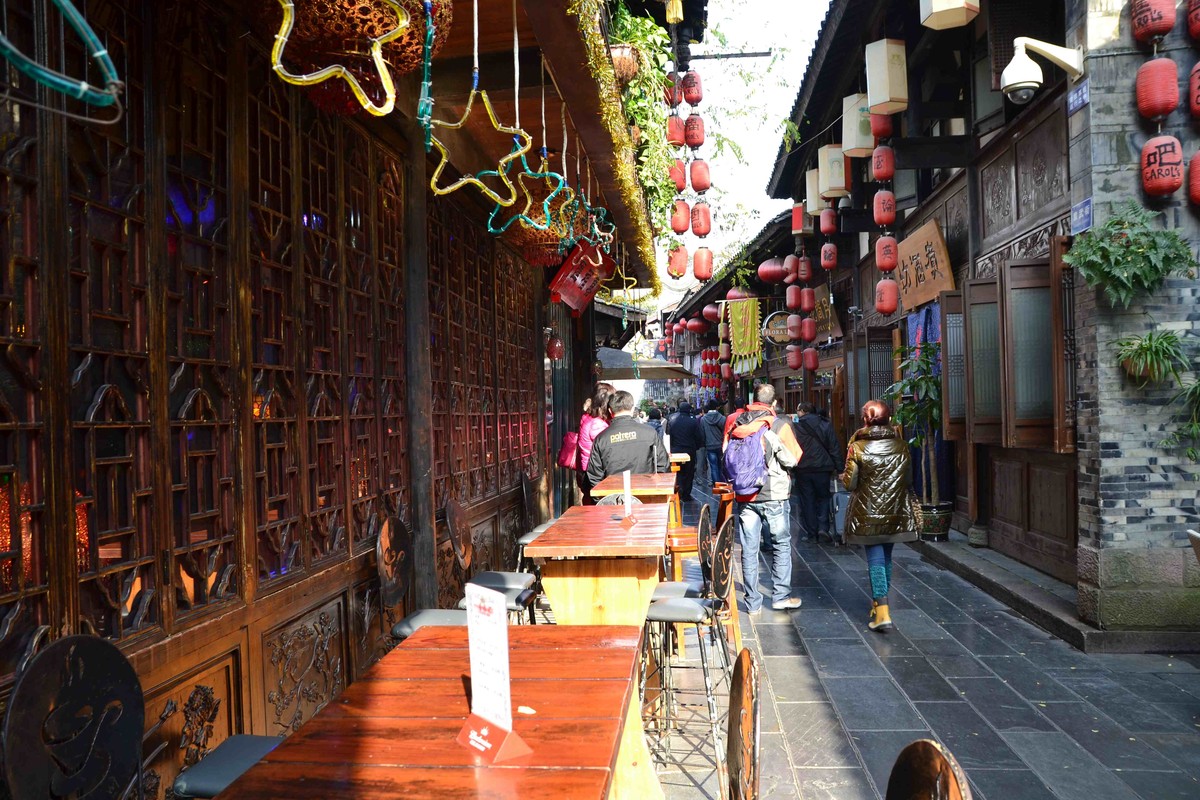 Address: Wuhou Ci Street
Opening Time: open 7 days a week from morning until late at night
People' s Park
People's Park is a great afternoon getaway. There are several teahouses on the grounds, including one of the more famous in the city, the Hemin Teahouse. You can row on a lake, dance, watch people dance, play chess or work out at People's Park. Semi-professional ear-cleaners will pursue you with long metal tongs, urging you to clean out your earwax for a few pence. There is also a large monument here commemorating an uprising that helped lead to the fall of the Qing Dynasty.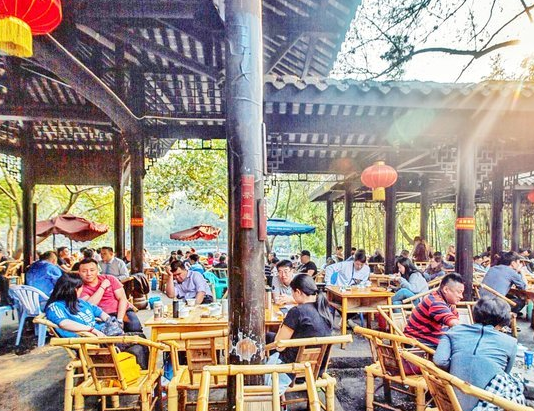 Address: Qingyang District, Citang Street
Opening Time: 6am to 6pm
Tianfu Square
Tianfu Square, where the nation's largest Mao Zedong statue overlooks Chengdu, is located at the very center of the city. The square lights up at night, with fountains providing a small show to revolutionary music. It is often crowded with migrant workers, and people from outside of Chengdu who take their significant others to the square for a quiet, free night out. A large contemporary art museum is under construction beside the square, and should be completed by mid-2015.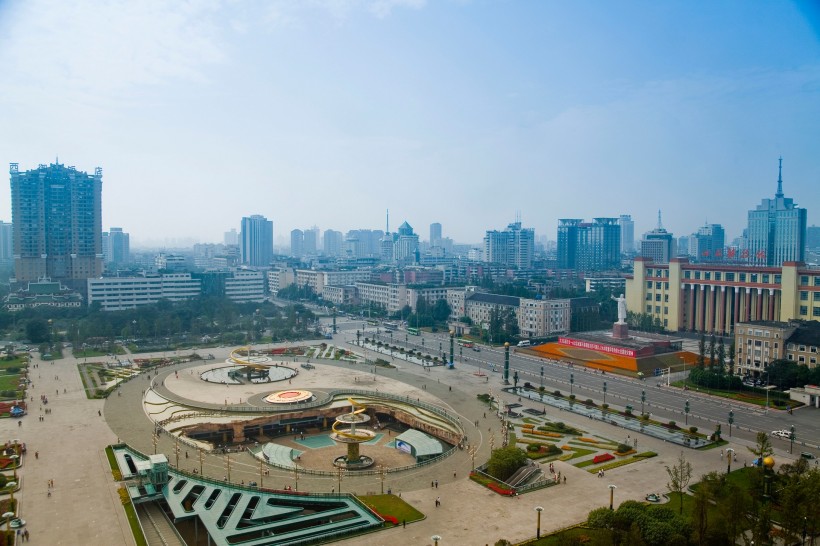 Address: Tianfu Square (city center, where Metro Lines 1 and 2 converge)

Wide and Narrow Lanes
Known as Kuan and Zhai Xiangzi in Chinese, these two lanes are the last of Chengdu's old town. The area was renovated from 2009 to 2011, and now resembles similar "imperial style" tourist areas in other major Chinese towns. Despite the cookie cutter approach, the architecture and lay-out are still very attractive. There are little curiosities all throughout the two lanes, such as Qing-era stone arches and lions at the doorways, tiny alcoves of old black brick, and poems inscribed on doorways and walls. The lanes are lined with high-end restaurants and tea houses, including a Starbucks. At night the food stalls come out, serving popular Chengdu snacks like San Da Pao (doughballs rolled in brown sugar), and Dan Dan Mian (noodles in a spicy meat sauce).
Address: Kuan and Zhai Xiangzi
Opening Time: 9am to 2am
Chengdu Cuisine
Sichuan Cuisine, which is primarily based on Chengdu and Chongqing dishes, focuses on the refined selection of raw materials, the dimensions, the harmonious layout and the sharp contrasting taste and colours. Sichuan dishes are spicy, hot, savoury, fresh, greasy and strong. Peppers, prickly ash peels, peppertrees, along with ginger are frequently used.
There are a considerable number of refined dishes, ranging from household dishes, traditional folk snacks and popular fast foods, to the senior feast consisting of three steamed dishes and nine braised dishes (San Zheng Jiu Kou, ????; a feast popular in the rural areas of Sichuan) with various creative patterns.
Kung Pao chicken
Kung Pao Chicken (????) in Chinese is a stir-fried dish with chicken cubes, dried chili pepper and deep-fried peanuts. The tender taste of the chicken matches great with the crispy peanuts with a combined sweet, sour and spicy taste.
Braised Spicy Tofu (Mapo Doufu, ????)
This is an incredibly mouth-watering Chinese dish. Blanched tofu is simmered in a spicy sauce with garlic shoots, then sprinkled with ground Sichuan peppercorns.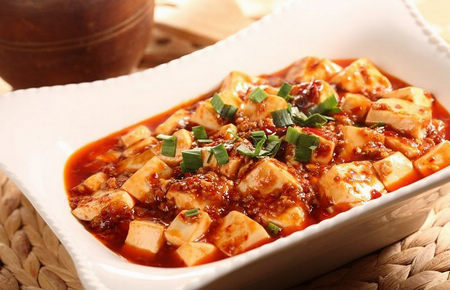 Szechuan Chicken in Chili Sauce (Koushui ji ???)
The short poaching cooking skill will make the chicken meat super tender and it is also used in Cantonese white cut chicken. After cooking, soak the chicken in iced water can tighten the skin. There are several important tips to make perfect chicken at home with tender texture and excellent Szechuan style mala flavor.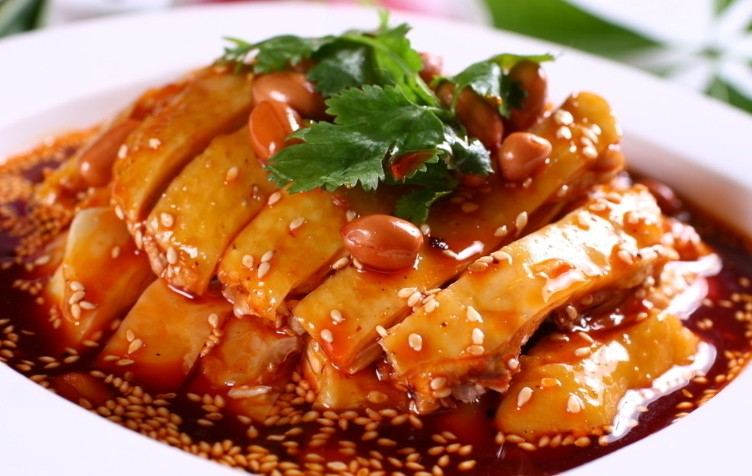 Giant Panda
The giant pandas are only found in Sichuan, Shanxi and Gansu provinces. In total there are fewer than 1000, of which 80% are distributed within the territory of Sichuan province. They are not only a Chinese national treasure but are also beloved by people worldwide. In that case, many visitors from domestic and abroad come to Chengdu, and their most main objectives will be to see the giant pandas for themselves.
The Chengdu Panda Breeding Research Center is located only 10 KM from the downtown of Chengdu city, itimitates the pandas' actual habitat in order that they might have a the best possible environment for rearing and breeding.

The Center cares also for other rare and endangered wild animals. Giant pandas, lesser pandas, black-necked cranes, white storks as well as over 20 species of rare animals are fed and bred there throughout the year. Verdant bamboo, bright flowers, fresh air, a natural hill scene and a beautiful artificial view are merged ingeniously at the base. The Giant Panda Museum was opened in 1993. This is the world's only thematic museum for rare and endangered animal species. The three main exhibitions are in the Giant Panda Hall, the Butterfly Hall and the Vertebrate Hall. The excellent exhibitions provide a wonderful venue for all who are interested in seeing something of the propagation and protection of the region natural bio-diversity.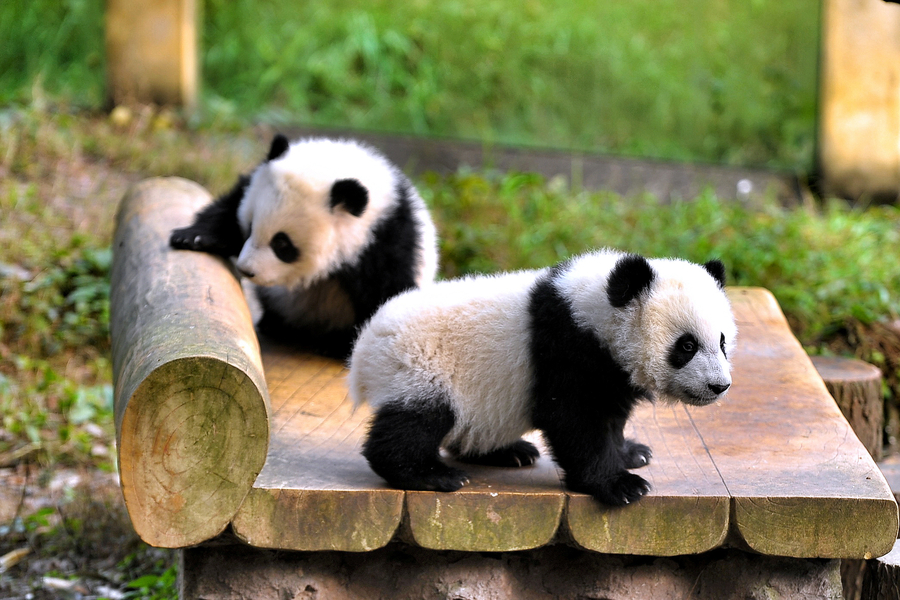 Topography
Chengdu's topography takes the shape of a ladder, which slopes toward the southeast from the northwest. The highest point, with an elevation of 5,364 m, is the Miao Ji Ling Range located in Xi Ling Town under Da Yi County. The lowest site, 387 m above sea level, is the outlet of the Zhi Shui River below the Jin Tang-Jian Yang Bridge in Yun He Town under Jin Tang County. The city's relative height difference is about 4, 977 m. The prominent difference of its elevation height results in the vertical climate of heat difference and colorful natural landscape. Under these conditions, local living resources in Chengdu area have various families and complete categories, creating excellent advantages to develop tourism and three-dimensional agriculture.
Population
Chengdu is one of the most densely populated cities in China. The total household registered population is 12,280,485 in 2015. Chengdu is the fourth-largest city in China, whose population density is 1006 persons per sq.km, and that of city area and central city area are 2131 persons per sq.km and 7933 persons per sq.km respectively.
Religious belief
Buddhism, Daoism, Islamism, Catholicism and Christianity are in existence in Chengdu. During the reign of Emperor Shun Di of the Eastern Han Dynasty, Heavenly Master Zhang Ling founded "Five-Piculs-of-Rice Sect" on the Mount He Ming of Da Yi County. This indicated the beginning of Chinese Daoism. Buddhism also entered Chengdu quite early for it came to this area towards the end of the Eastern Han Dynasty. More than 600 years ago, Islamism entered Chengdu in the Ming Dynasty. Catholicism and Christianity entered Chengdu respectively in 1640 in the Ming Dynasty and in 1881 in the Qin Dynasty. At present, there are 178 religious activity sites, and 1,509 priests and working staff in Chengdu.