Tianjin Overview
Post Date: 2018/08/16 11:28
Share to:
Tianjin, once abbreviated as Jin, Jingu, Gushang, Zhigu, Dinggu, Jin Gate, Sanjin and Yingjin in history, is one of the 4 municipalities directly under the Central Government of the People's Republic of China. Tianjin is the third largest city in China next to Beijing and Shanghai.
Tianjin is not appealing at first glance: a large metropolis filled with concrete steel structures. However,the city remains a sizable areas of wonderful colonial architecture which illustrates its past.
Top attractions in Tianjin are the Huangyaguan Great Wall(Yellow Cliff Great Wall), concession-era architecture, Tianjin Old City, Dabei Buddhist Monastery.
Kites and New Year pictures of Tianjin are very famous. One of the specialties of the place is the two day kite-flying festival held in early April or late September.
Tianjin will host the the 2008 Beijing Summer Olympics Football matches. The Tianjin Olympic Centre Stadium covers 78,000 square meters, with a seating capacity of 60, 000. The project went into construction in August 2003 and is due for completion in 2006. And it is able to accommodate up to 80,000 people, including 500 of the platform and 300 of the press box.
Climate & Weather
Located near Beijing, Tianjin's weather is similarly characterized by four distinct seasons – dry and windy springs, hot and rainy summers, cool and pleasant autumns, dry and cold winters. Like most cities in northern China, July tends to be the hottest month, during which the average temperature can reach 26 °C (79 °F) or even higher, while January is the coldest with an average temperature of -4 °C (25 °F).
It is strongly recommended to visit in spring from March to May and autumn from September to October. The natural scenes are most beautiful in the two seasons, when the climate is also at its most stable and agreeable time.
Area Code: 022

Zip Code: 300000

Area: Total Area 11,305 square kilometers; City Area 4,276 square kilometers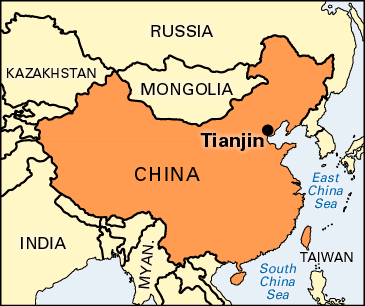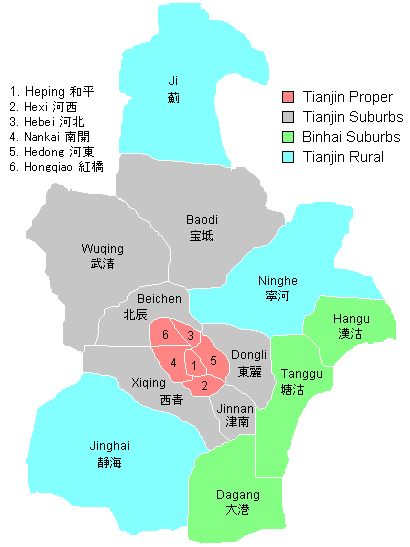 Population: At the end of 2004, the population of Tianjin Municipality was 10.24 million, of which 9.33 million were holders of Tianjin hukou (permanent residence). Among Tianjin permanent residents, 5.56 million were urban, and 3.76 million were rural. The majority of Tianjin residents are Han Chinese, which occupies 97.29% according to the 2000 cencus from the Department of Population, Social, Science and Technology Statistics of the National Bureau of Statistics of China. Minorities include Hui, Koreans, Manchus, and Mongol.