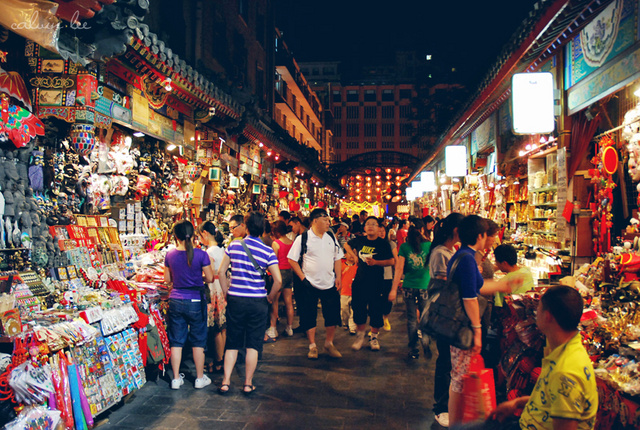 Overview:
Today there are shops and stores scattered in every corner of Beijing. Beijing has lots of shopping streets and markets. They provide various kinds of goods that tourists and locals in Beijing prefer to buy. For market and street shopping lovers, you have to be an active bargain shopper and the motto is buyer beware. For those shoppers reluctant to bargain, big shopping malls and departments are nice choices. Shopping in Beijing is becoming more convenient by the day. Every year new shopping centers and plazas are sprouting up all over the capital.

Beijing Shopping Areas
Wangfujing Street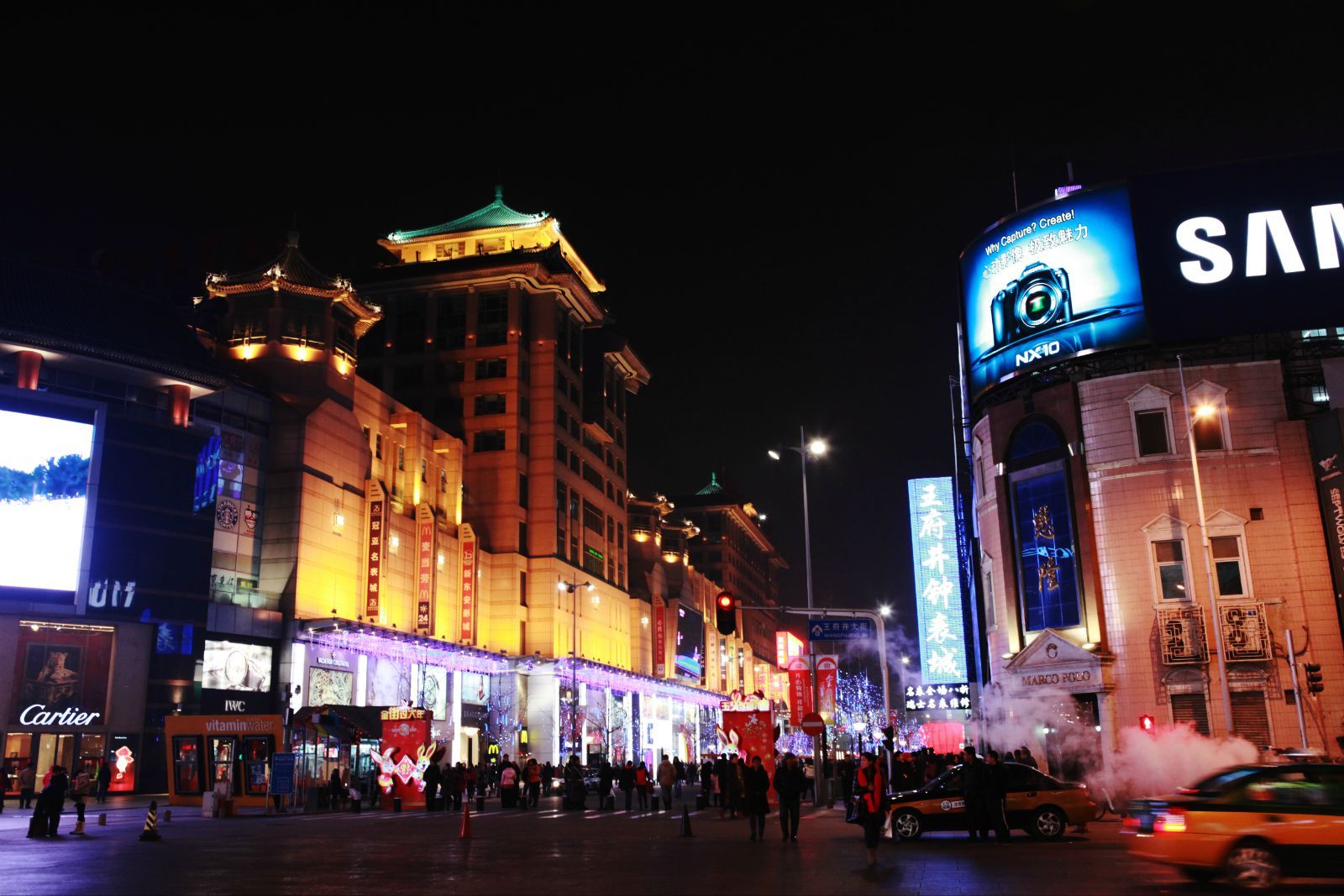 Wangfujing is the most fashionable and trendy shopping street located in the center of Beijing City. This street is considered as NO 1 street in China. Wangfujing street is no more than one kilometer, but it is crowded with specialty and long-history shops, which are full of modern atmosphere and high taste. It is considered as the sister street of Champs Elysees in France. A short walk south of the Forbidden City and east of Tiananmen Square, it's a cluster of international stores full of fanshionable clothes and narrow lanes ( hutongs ) of antiques and food stalls. There are also cinemas and large bookstores. The main street is a pedestrian street and ideal for walking. At the south end of Wangfujing Street, Oriental Plaza provides various shops and high fashions. Even if you don't need to buy anything, it's a good place for people walking and checking out the richer, more trendy side of Beijing. There is also a Christian church in the street, and you can find starbucks by the church. If you like Beijing snack, right next to this there is place full of all kinds of street food during night time.

Qianmen Walking Street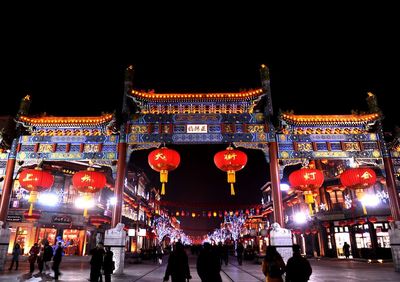 Qianmen Street has a history of more than 570 years. It was originally called Zhengyangmen Street during the Ming and Qing Dynasties.In 1965, it was finally named Qianmen Street. During the Qing Dynasty,

There were many specialized outlets on either side of Qianmen Street, such as a meat market, a clothing market and a jewelry market and there were also many
craftsmen who had workshops, warehouses and theatres in the Hutongs nearby.
After more than a year of renovatiing, Qianmen Street reopened on August 7th before the 2008 Beijing Olympics. It is a symbol of genuine Beijing local culture. Qianmen Street has many of China's time-honored names. Visitors can enjoy a traditional Chinese way of life. Moreover, Qianmen Street has many international brands, such as H&M, Haagen-Dazs, Sephora, ZARA, Qggle, COSTS CAFé, and SK Jewelry.
The most famous of China own names are as follows: Quanjude, Yitiaolong, and Douyichu, and Changchuntang.With roast duck taking the leading role, Quanjude has formed its regional cuisine with the feast of whole duck and more than 400 special dishes. It is enjoyed by people all over the world. Yitiaolong restaurant (original name was Yitiaolong mutton restaurant) is an authentic Muslim restaurant. It was first open to the public in 1785. The representative dishes are Golden Fried Prawns, Braised Ox Tail in Brown Sauce, fried crisp chicken, and so on.
Beijing Panjiayuan Antiques Market
Panjiayuan Antiques Market is located on the west of Panjiayuan Bridge, the Market is very accessible. The market deals mainly in antiques and arts and crafts. It also has the reputation of being the most inexpensive antiques market in Beijing, attracting foreign and domestic tourists. Whether you want to sightsee, window-shop or buy collectors' items, there really is something for everyone. Even Hilary Clinton has famously shopped at Panjiayuan. This is a ideal place for bargain hunters.And although there are genuine articles to be found here, it is hard to tell the real deal from the fake, particularly if you aren't an expert.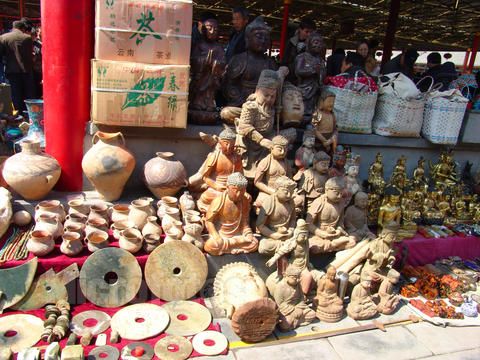 The market covers an area of 4.85 hectares with more than 3,000 stalls,it's divided into six sections, it is the largest antiques market of its kind both in China and Asia. In the past time, the market only open on weekend, but now open for seven days a week. The best time are weekend. Secondhand goods, arts and crafts and antiquities are the main transactions in the market. Also on offer are antique furniture imitations, what is known to the Chinese as the "Four Treasures of the Study" (writing brush, ink stick, paper and ink slab), old books and paintings, ceramics, ancient Chinese and foreign coins, bamboo and animal bone sculptures, leather puppets for shadow play and a wide range of Chinese opera masks. Buddhist relics, costumes of ethnic minorities, apparels, "Cultural Revolution" (1966-1976) articles and daily necessities can also be found here. Panjiayuan market is truly a market packed with Chinese traditional culture.

Xidan Shopping Area
Xidan Market is the shopping paradise for the locals (local people in Beijing). There is a department store with Starbuck and McDonalds. The shopping centre is crowded. Further north is the Xidan Market and bargain here is required. The store assistants speaks little or no english. Xidan has many shops that sell cheap men and women's casual clothing. Of course, you can find quality clothes there. This is more non-touristy shopping compared to Wangfujing and as a result, prices can be lower.
Add: 1km north of Entrance A - Xidan Subway Station of Line No.01.
What to buy in Beijing
cloisonné
During the ancient time, cloisonné was a technique for decorating metalwork objects. While in our modern age, cloisonné also can be one of the famous arts and crafts of Beijing with a history of over 500 years. The charm and unique technology require rather elaborate and complicated processes. And the body is made of copper because it is easily hammered and stretched.
It costs about six months or even a longer time to make a piece of it in the Beijing Enamel Factory. The works ranges a wide variety, from Chopstick to vases. The making of it is quite compalicated. requires rather elaborate and complicated processes: base-hammering, copper-strip inlay, soldering, enamel-filling, enamel-firing, polishing and gilding.

China is not the only country to produce cloisonné. This beautiful artwork can be found in many countries.
In Japan, since the mid-19th century, artists produced cloisonné in large quantities of very high technical quality. And Russian cloisonné from the Tsarist era is also highly prized by collectors, especially from the House of Fabergé or Khlebnikov. The French and other nations also have produced small quantities. And in China mainland, Canton enamel sometimes may cause confusion with Chinese cloisonné. Canton enamel, a similar type of enamel work, is painted on freehand and does not utilize partitions to hold the colors separate.

Peking Opera Masks
Peking Opera Masks or Beijing Opera Faces or Lian Pu mean the types of facial make-up or face-painting. In Beijing Opera, different types of facial paintings express different significances – Red facial painting for loyalty, black facial make-up for uprightness, yellow face for homicidal and tyrannical, blue and green face-painting for a forthright and testy temper and white "face" for the treacherous and evil men.


The craft of making traditional opera masks is unique to Beijing China. It can be traced back to the 12th century when the first mask appeared in a Song dynasty opera. A few strokes of the brush and every color turns a piece of plaster into a Peking opera mask.