Zhangjiajie
Post Date: 2017/08/07 22:31
Share to:
Introdution of Zhangjiajie
Zhangjiajie is a growing tourist city and is famous for its unique natural scenery and abundant tourism resources. It is located in the northwest of Hunan Province, about 400 kilometers away from Changsha, covering a total area of 9,563 square kilometers with 76% mountainous area. Among the total population of 1.62 million, almost 72% of the people belong to ethic minorities, including Tujia, Bai and Miao nationalities.
Zhangjiajie consists of Yongding and Wulingyuan Districts, Cili and Sangzhi Counties. Wulingyuan District, also called Wulingyuan Scenic and Historic Interest Area, was listed among the World Natural Heritage Catalogue by UNESCO in 1992, as it boasts the most beautiful natural scenery in China. What is more, Zhangjiajie was awarded the title of "World Geological Park" in 2004 and was honored as "Number-One Miraculous Mountain in the World" and "The Original Manuscript of Chinese Landscape Painting".

The splendid landscape of Zhangjiajie features Quartz Sandstone Peak Forest and Karst Caves, which are rare in the world. Here you will find yourself with hundreds of grotesque peaks, beautiful waters, towering trees, deep valleys, marvelous caves and exuberant forest which constitute a complete primitive ecological park. Indeed, Zhangjiajie is a perfect combination of the beauty of Guilin, the grotesqueness of Mount Huang, the peril of Mount Hua and the magnificence of Mount Tai. Therefore, it enjoys the reputation of "an enlarged potted landscape", "a miniature fairyland" as well as "a maze endowed by nature", integrating the characteristics of peace, wildness, mystery, beauty, grotesqueness and elegance.

History of Zhangjiajie
The history of Zhangjiajie can be traced back to the Neolithic Age when it was still named "Dayong".The first human traces in this area have been registered about 100,000 years ago. It said that Zhang Liang-a famed strategist of the Western Han Dynasty (206 BC-24 AD), lived here after leaving the imperial court. He lived in fear he would be killed by Liu Bang, the first emperor of the Han Dynasty who had ordered some of his subjects executed out of suspicion they might rebel against him. Zhang found Qingyan (now Zhangjiajie) Mountain is an ideal refuge due to its haunting beauty and tranquility. He became a hermit. It is said he planted seven ginkgo trees here. He was buried below Qingyan (now Zhangjiajie) Mountain. Zhang's descendants also are believed to have lived here, which is how the name Zhangjiajie originated.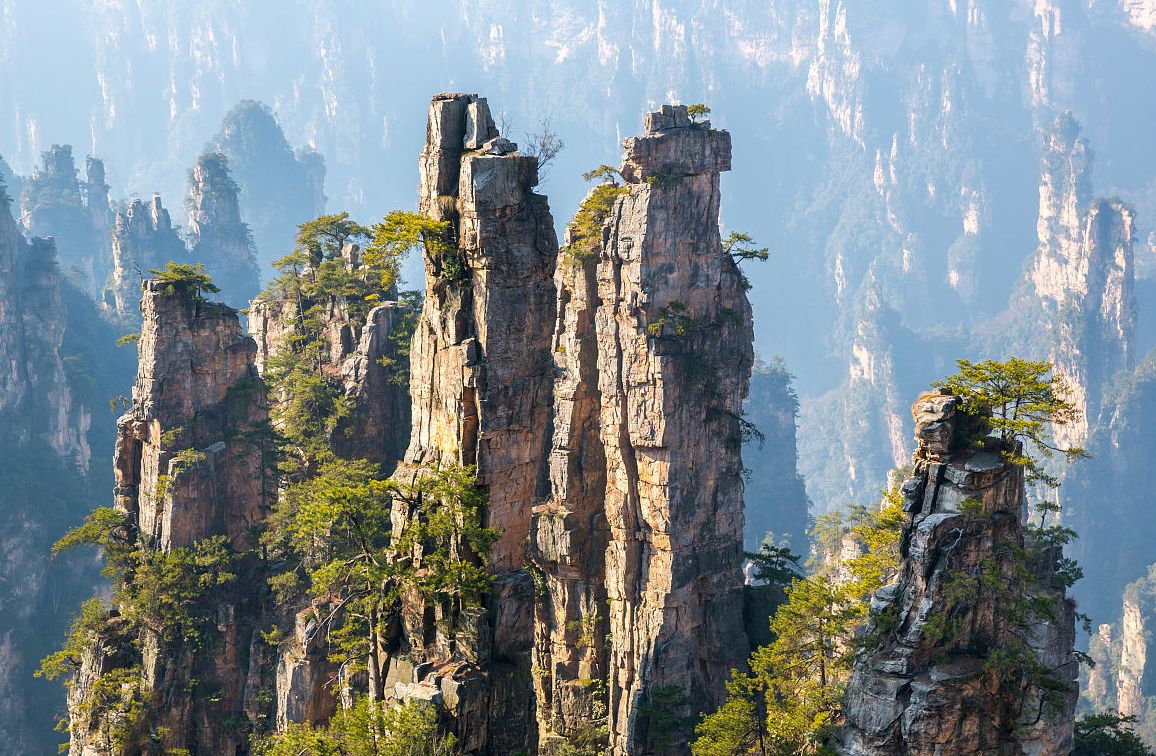 Zhangjiajie Climate & Weather
Zhangjiajie belongs to the sub-tropical humid monsoon climate. Splendid mountains and thick trees help form a favorable climate: warm in winter and cool in summer. The annual average temperature is 16 centigrade and the annual average sunshine hours and the amount of rainfall are 1440 hours and 1400 square meters respectively. The average frost-free period over the past years is 216 to 269 days a year. It attracts visitors all year round as the charm of the scenery varies with the alternation of the seasons.
Besides its pleasant climate, the primitive ecological environment also offers visitors a rare chance to breathe healthy air which is believed to be rich in negative oxygen ions. It is also thought that hypertension sufferers may have their blood pressure lowered if they stay in the forest park for a period of time. This is due to the fact that dust particles in the park are 88% fewer and the air 10% mistier than other places.

Transportation
The Zhangjiajie Airport services scheduled service to major airports in China. It is about 5 km away from the downtown and 30 km away from Wulingyuan Scenic Area. There are domestic flights available between Zhangjiajie and other cities, such as Changsha, Beijing, Shanghai, Guangzhou etc. Flights between Zhangjiajie and Seoul, Busan are also available.
Zhangjiajie Attractions

Zhangjiajie National Forest Park
Zhangjiajie National Forest Park, set up in 1982, is the first authorized national forest park in China. The area covers 480 thousand square meters (185 square miles). It is located 32 kilometers (19 miles) from urban Zhangjiajie.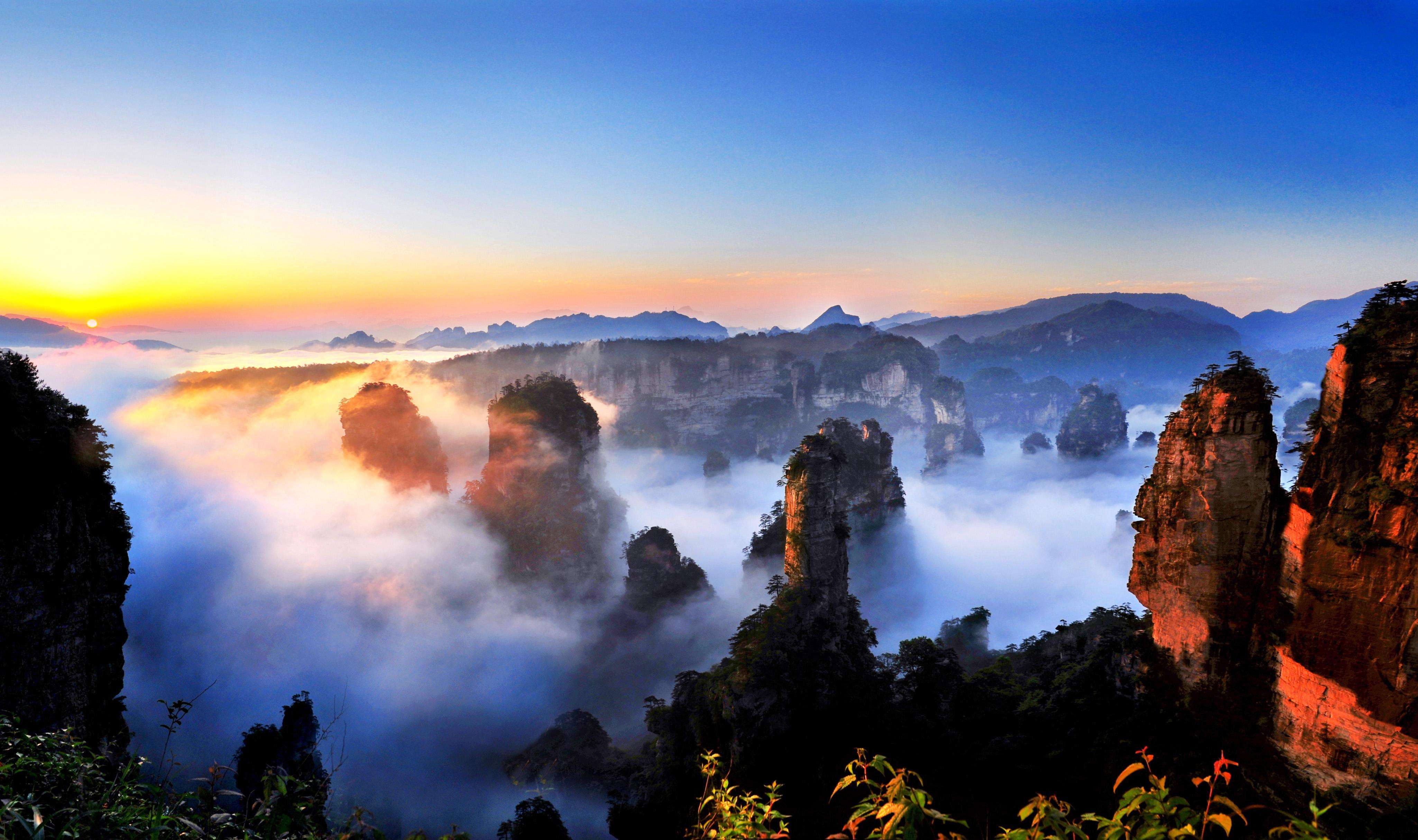 Suoxi Valley Nature Reserve
Suoxi Vally Nature Reserve (or Suoxiyu Valley) is famous for its picturesque mountains, graceful rivers, deep caves and strategic bridges. Suoxiyu covers an area of 147 sq km, has more than 200 scenic spots, some famous attractions include the Ten-li Gallery, Another New World, Baofen Lake, Yellow Dragon Cave, etc. Seen from far away rows of uniquely arranged peaks, setting off by the blue sky, give misty green outlines. The scenery is more energetic than that of Guilin and more attractive than the Stone Forest of Yunnan.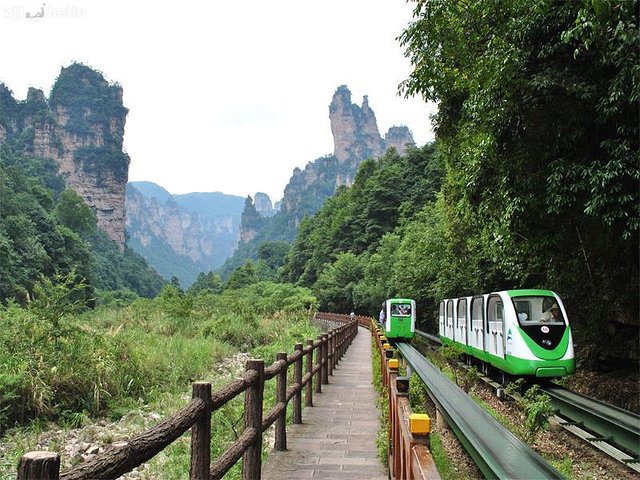 Tianzi Mountain Nature Reserve
Located in the northwestern part of Wulingyuan Scenic Zone, Zhangjiajie Tianzi Mountain Nature Reserve boasts rocky peaks in grotesque shapes and shrouded in drifting mist. The highest peak is 1,260 meters (4,130FT) above sea level and provides stunning views of the surrounding mountains and valleys. Waterfalls, bridges, stone forests and caves are found throughout the mountains.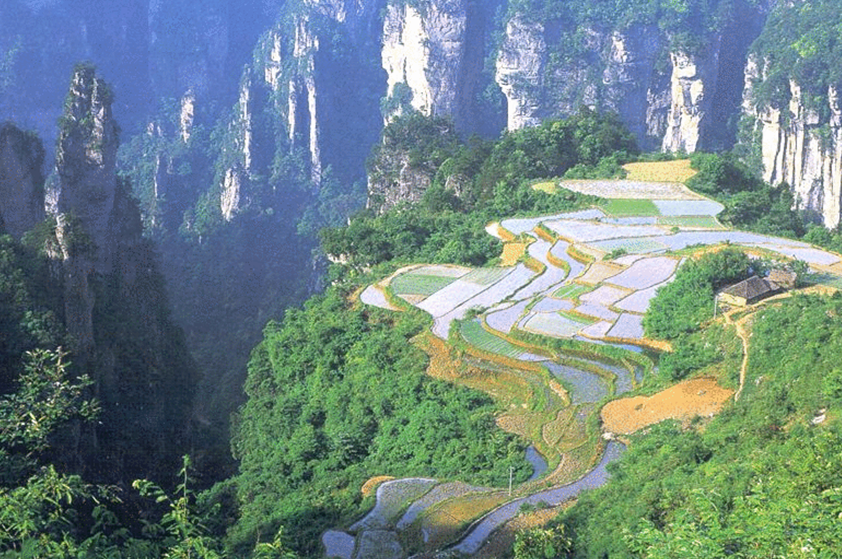 Tianmen Mountain
Located just eight kilometers (about five miles) south of Zhangjiajie Village, Tianmen Mountain (Heavenly Door) Scenic Area has been designated as the second national forest park in Zhangjiajie. Rising nearly 1,520 meters (about 4,987 feet), Tianmen is the highest peak of the city and is regarded as the 'soul' of the scenic area. There are many graceful trees, karst hillocks and medicinal herbs and plants on the mountain. Tianmen also has its 'four wonders' - Tianmen Mountain Cableway, Tongtian Dadao (Avenue Leading to the Sky), Tianmen Cave and Bonsai Garden on Air.
Zhangjiajie Grand Canyon
Zhangjiajie Grand Canyon is located in Sanguansi Tujia Minority Township,northwest part of Cili County.It's about 10 kilometers away from Zhangjiajie's Wulingyuan Scenic Area. Covering a total area of 60 sqaure kilometers, Zhangjiajie Grand Canyon is a new attraction in Zhangjiajie City.
Zhangjiajie Cuisine
Zhangjiajie is situated in the northwest part of Hunan Province, so the cooking style of Zhangjiajie Cusine is like the Hunan cuisine, which is also called Xiang cuisine (Xiang is the abbreviation of Hunan), stems from a province that has an age-old reputation as a "land of fish and rice". Hunan Province has always been a cornucopia as far as foodstuffs go.
A List of Some Notable Xiang Dishes

| | |
| --- | --- |
| Changsha-style rice vermicelli | ???? |
| Changsha-style stinky tofu | ????? |
| Dong'an chicken | ???? |
| "Dry-wok" chicken | ??? |
| Homemade-style bean curd | ???? |
| Lotus seeds in rock sugar syrup | ???? |
| Mao's braised pork | ????? |
| Steamed fish head in chili sauce | ????? |
| Stir fried duck blood | ??? |
| Pearly meatballs | ???? |