wangfujing Street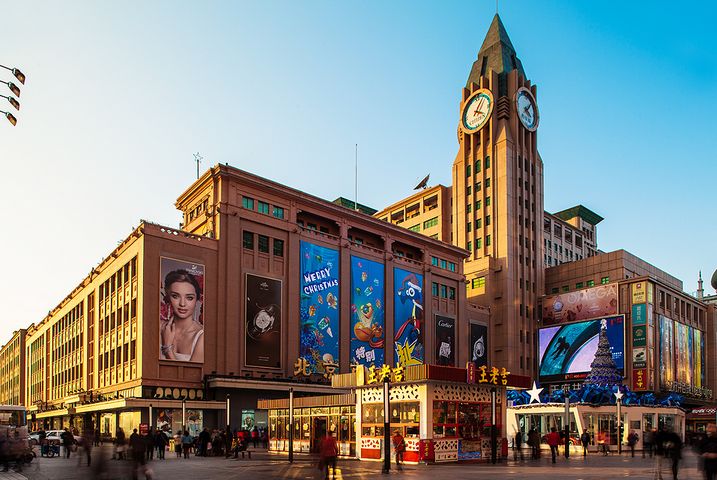 Introduction
Located in the eastern-central side of the city and can be accessed via subway line 1 (red line) just past Tian'anmen Square East. This stretch of walking street is off limits to cars and has everything you need within walking distance. This seems to be the most Westernized part of the city with everything from McDonalds, to KFC lining the walkway and plenty of souvenir shops to be found here too. Probably the best part of Wangfujing is the area around the pedestrian area, specifically Snack Street.

History & Background
Since the middle of the Ming Dynasty, this section of Beijing has played host to a series of commercial activities and a slew of people. In the Qing Dynasty, this place was home to eight aristocratic estates and a princess residence. Following the discovery of a natural well filled with sweet water, the road was given the name "Wang Fu" meaning aristocratic residency and "Jing" meaning well.
In the late 1990s this section of the city was often congested with trollies, busses, and other heavy traffic. Modifications in 1999 and 2000 turned it into a walking street.

Highlight Of Wangfujing Street
In fact, the best part of Wangfujing is the nighttime culture. The street springs to life when the sun goes down and turns into a veritable wonderland of neon lights, everyone is alive and having fun.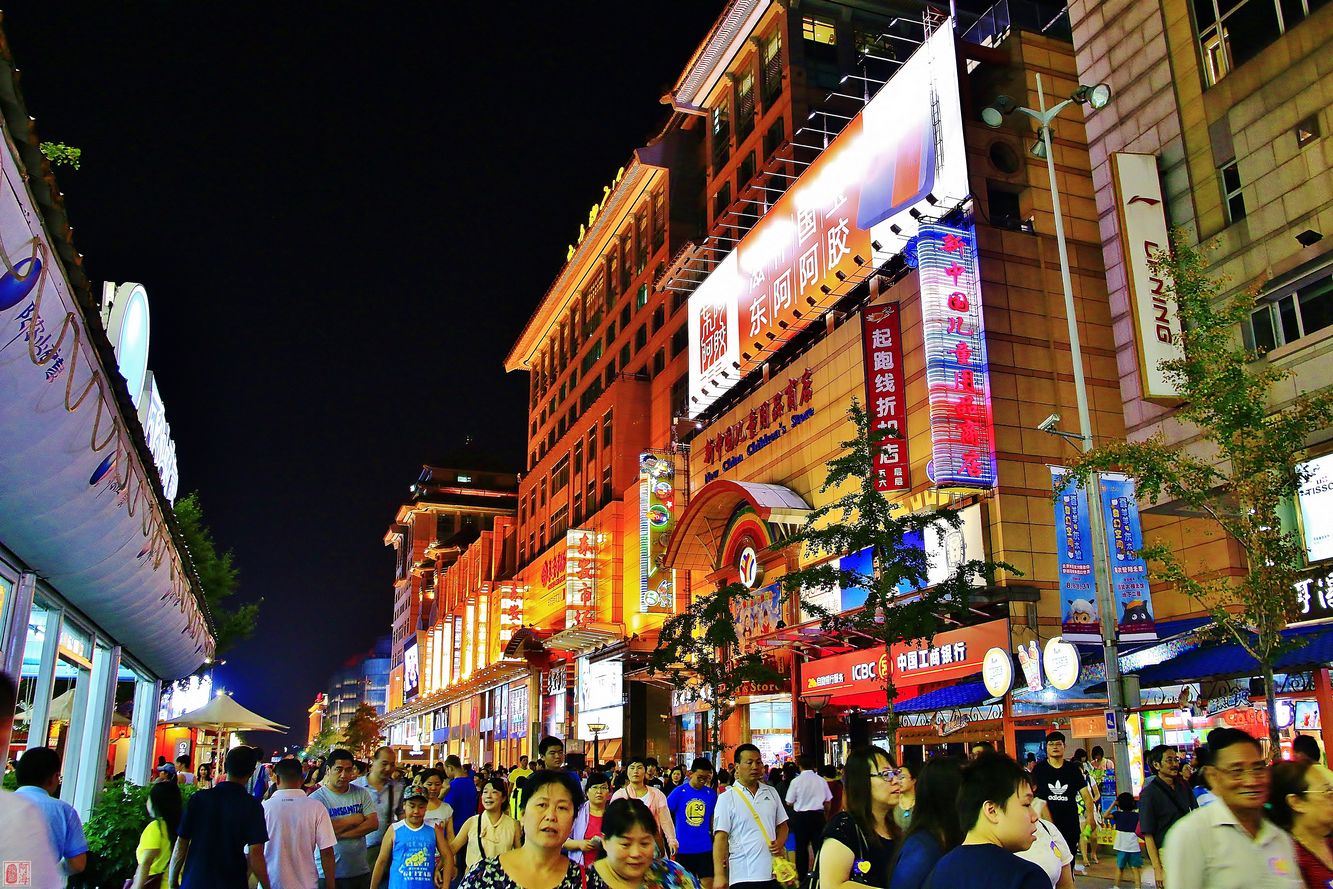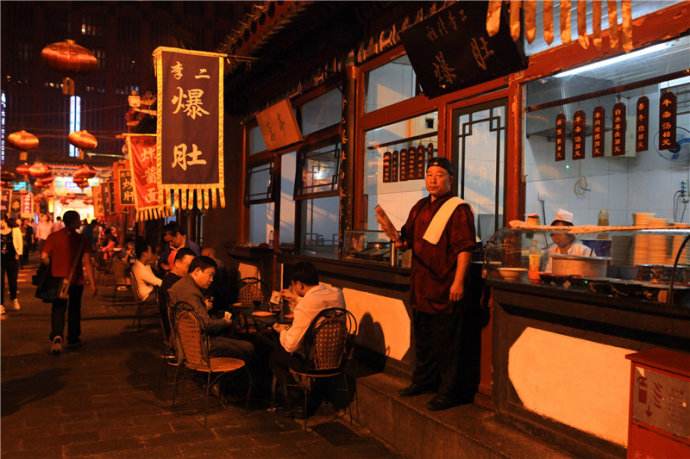 The Foreign Languages Bookstore has plenty of good reads about Chinese culture and history in English for visitors that want to learn more about Beijing or China while they are here. Also English copies of travel books like The Lonely Planet and The Rough Guide may be helpful to travelers.
Inside the Malls at Oriental Plaza, shoppers will find a plethora of shops and food stores to cater any need; this shopping center feels more worldly in nature than Chinese. I found this to be especially helpful to find random items along your journey that may need replacing, for example I lost the gold backing to an earring of mine while in China and easily found a replacement here. Also the mall has an upper line grocery store in the basement: Ole, if any specialty items are needed.
Back on the street, visitors can find plenty tea houses and silk goods stores. A lot of luxury goods line the store fronts like: Rolex, DKNY, Lactose, and Bose. And although not all stores on Wangfujing sell the highest quality goods (like 10RMB stores), there is something for everyone. Consumers looking for chopsticks, Chinese hand balls, or "jade" jewelry can find their treasures on Wangfujing. The truth of the matter is that no matter what you are buying at Wangfujing, you will be paying more for it just for the prestige of the section.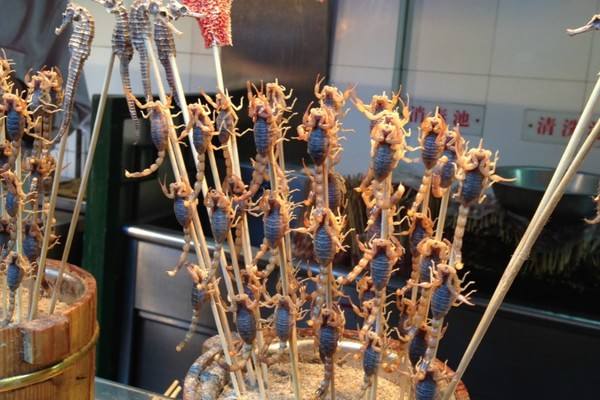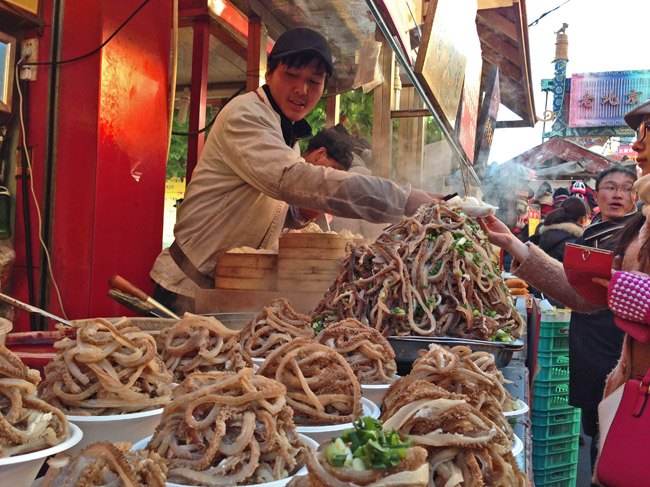 A short walk on the north side of Wangfujing is Snack Street, one of the best things to do at Wangfujing. This long row of venders selling exotic foods deepfried, boiled, and candied is one of a kind experience for travelers and a must see. The red lanterns that hang in the air signal the festivities on Snack Street have begun and the smell of cooking oil and fruit lingers in the air. Surprisingly, the majority of Snack Street visitors are Chinese people looking for a novelty thrill and here, that is not hard to come back. Snacks here include: scorpions, snake, silk worms, and other creepy crawlies, candied fruit of every variety from kiwi to strawberries to hawthorn, and for the very brave: sheep's penis and testacies.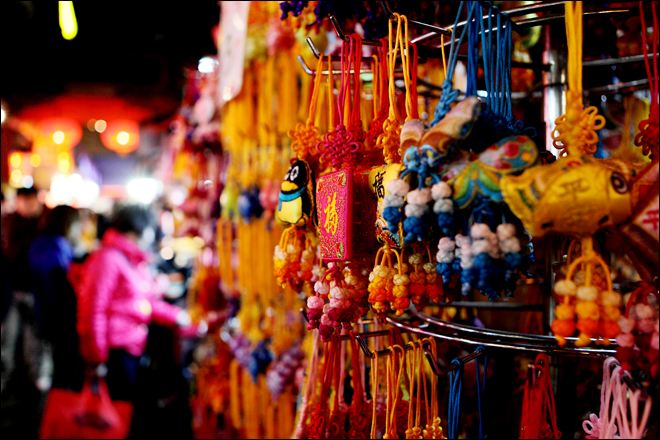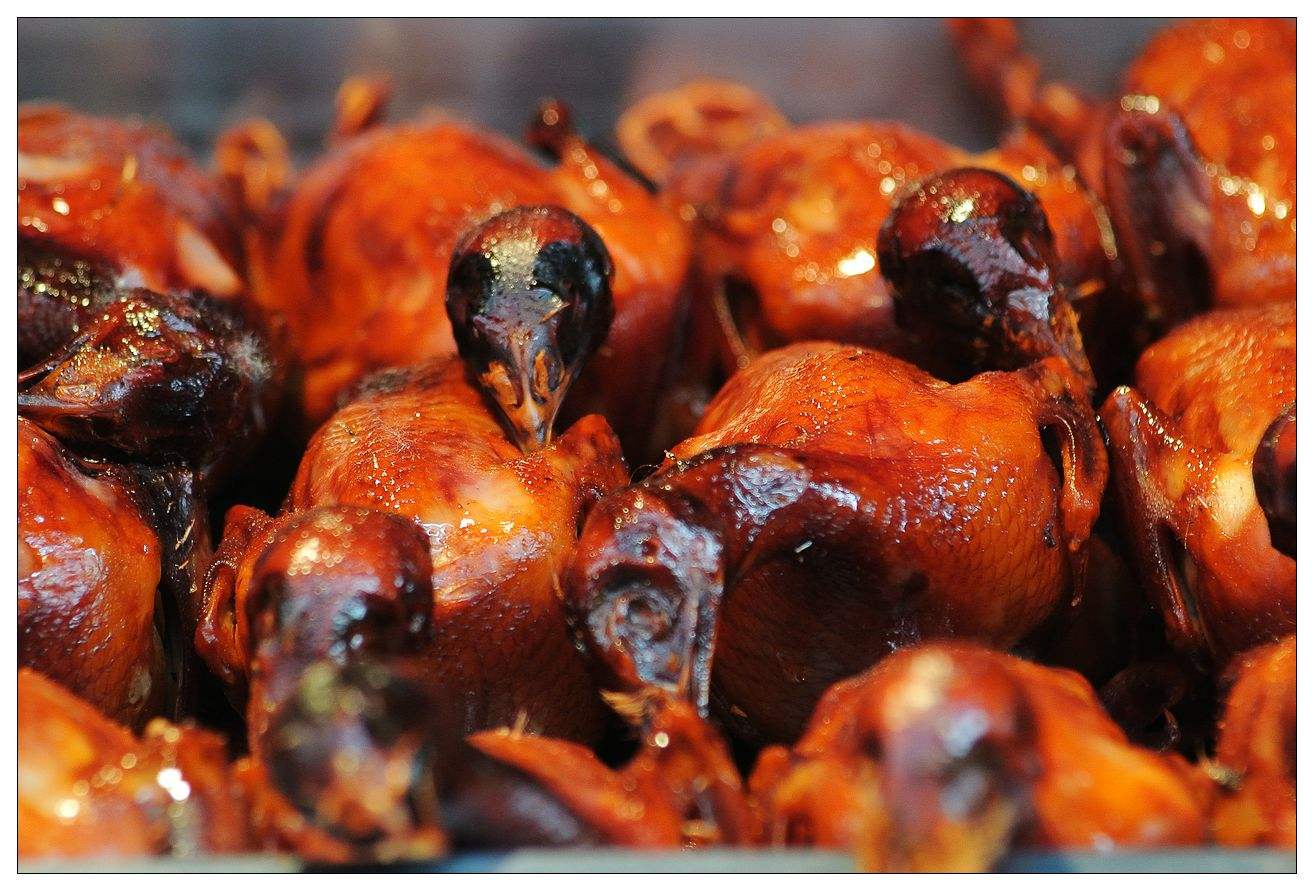 Information
Admission Fee: Free
Opening Hours: 1-2 hours
Transportation
Bus: 10, 20, 37, 41, 59, 120, 126, 203, 205, 420, 802 (get off at Wangfujing Stop)
Subway: Line 1 (get off at Wangfujing Stop) or line 5 Dengshikou Station