Jiankou Great Wall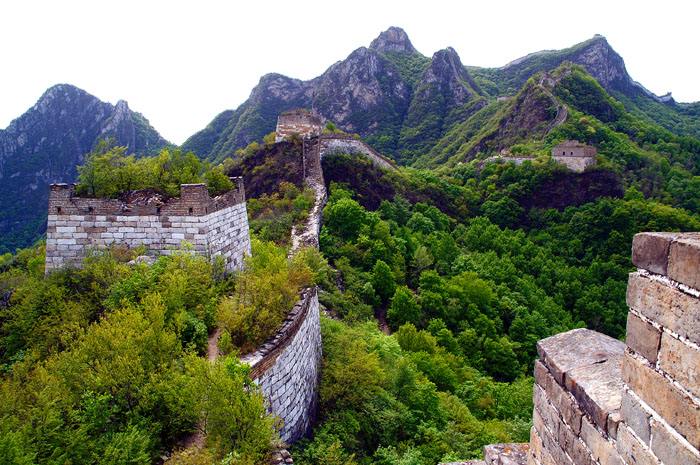 Overview
Jiankou Great Wall is one of section of Great Wall of China, iy is located in the huairou District, north of Beijing.It is one of the most dangerous and wild GreaT Wall sections. This section is very suit for you to take photo due to its unique style, steep mountains and beautiful scenery. It also call" Arrow Nock Great Wall" for the shape of the collasped ridge opening is reminiscent of an arrow nock.
The Jiankou Great Wall wa constructed in 1368 during the Ming Dynasty.It is made of large light colored rocks which can be seen from a great distance. It has never been restored since its consturction with some sections having fallen into disrepair.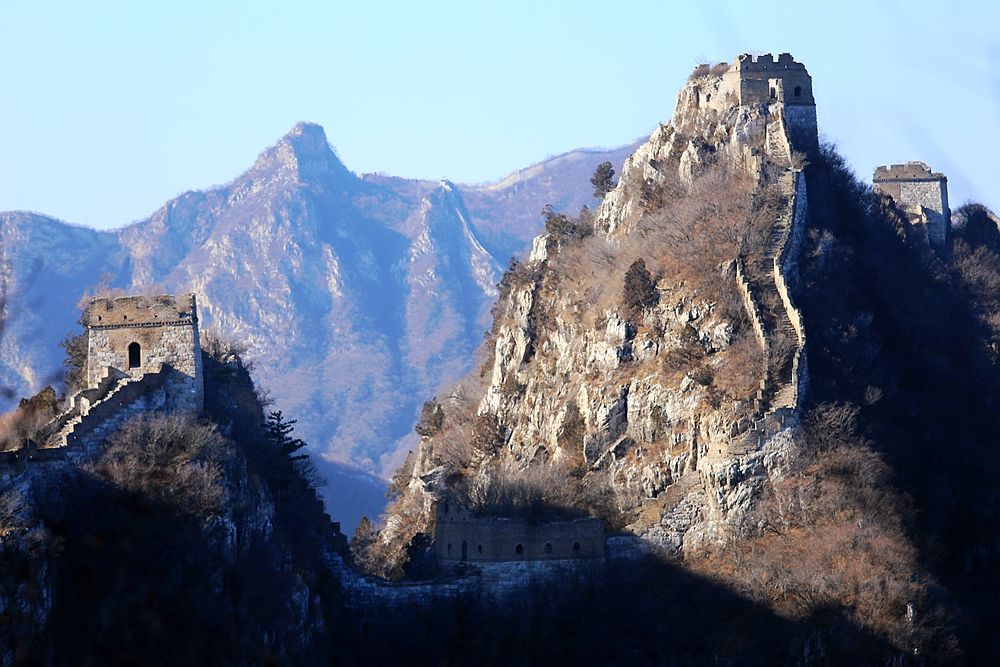 The Jiankou section has never been restored since its construction, with some sections having fallen into disrepair. This, along with its location along a mountain ridge bordered by jagged cliffs and steep drop-offs, makes this section potentially dangerous to climb, while at the same time a popular place for adventurous and experienced hikers and photographers. The section is more easily reached from villages like Xizhazi (???) and Jiushuikeng (???) at the north side of the wall, locally known as Hou Jiankou (???), than from the south, called Qian Jiankou (???). The climb from the north goes up just over 100 meters in about a one kilometer hike, whereas from the south the climb is about 450 meters up over a horizontal distance of also one kilometer.

The highlights of Jiankou Section
There are many famous sections of Jiankou Great Wall, such as "The Nine-Eye Tower", an important command post during the ancient wars. It has three layers, and there are nine holes which look like nine eyes on each side. "The Beijing Knot" is the meeting point for three walls coming from different directions. "The Sky Stair", is a precipitous stair whose angle of elevation is 70 to 80 degrees. It leads to 'The Eagle Flies Facing Upward', a watch tower built on the lofty peaks. It is so dangerous that even eagles have to fly facing upward to reach the top. "Zhengbei Tower" is the right place to appreciate the beauty of the sunrise and the sunset.
Information
Opening Hours: 24 Hours
Admission Fee: Free
Recommended travel time: 1-2 Days
Best time to visit: Sep-Oct
Transportation:Take Bus No. 916 from Dongzhimen to Huairou, then hire a taxi to go there, which is 30km
Tour The Jiankou Great Wall with Beijing Private Tour
We will provide a private & spacious car and a local professional tour guide with over 5 years guiding experience only work for you or your group. You will be escorted during your tour. Transport, ticket, and dining (At some local restaurants popular with locals) all we will arrange for you according your requirements. Please check our most popular Beijing Tours including The Jiankou Great Wall as below:

{????}
Are the above sample tour programs not suitable for you? We have more Great Wall Tours. Our tours can be tailor-made based on your requirements and budget to create unique Great Wall Tour experiences that allow you to interact with the local people and culture. Our enthusiastic tour expert will promptly reply you in details within 24 hours. Email to: [email protected]